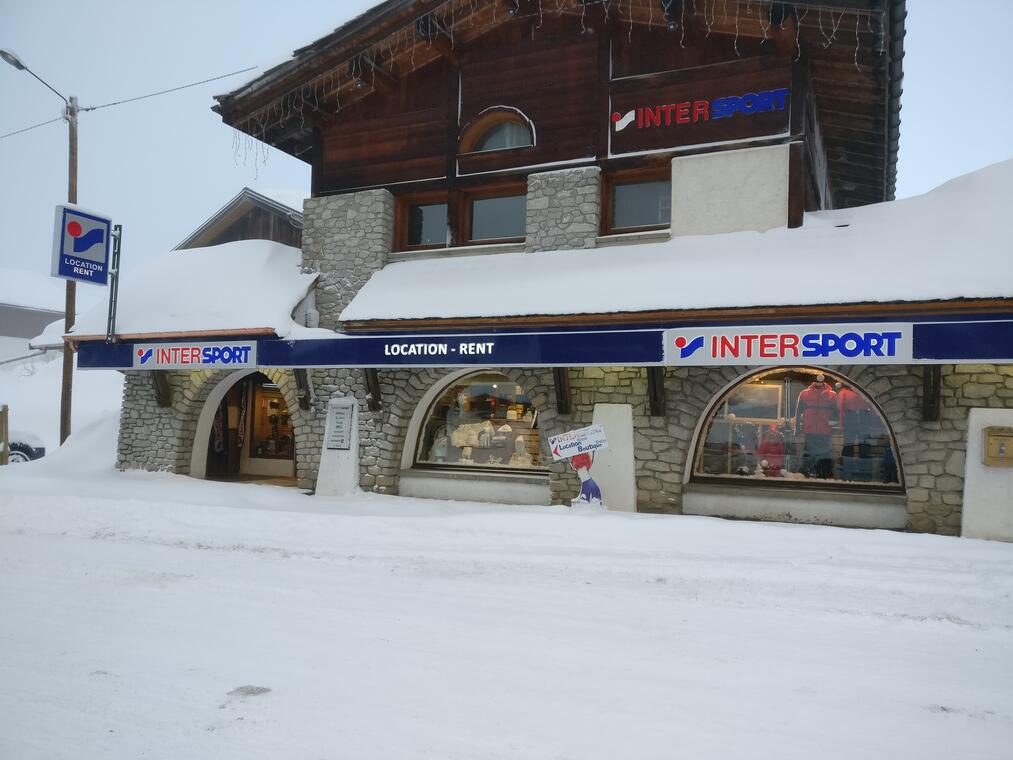 Intersport
Shops,
Shopping,
Sports equipment
in Crest-Voland
Sports shop, rentals and sales. Come and discover the best brands at the best prices.

Come and discover our selection: Picture, Fusalp, Damart, Polochon, Mc Kinley, Oakley, ...
New brands : Superdry, Duvillard, Colmar

Antoine and his team will give you advice on:
- Alpine skiing equipment
- Snowboard
- Snowbike
- Snowscoot
- Snowshoes
- Cross-country skiing
- Sleds
- Pushchairs
- Baby carriers
- Yooner
- Hiking shoes...

We will advise you in a 100m² shop dedicated to selling.
In Intersport, try skis and shoes before buying.
Groups (Max capacity)

100 Maximum number of people
Accessibility

Accessible for self-propelled wheelchairs

Activities

Cycle sports
Winter sports

Electric-assisted mountain bike
Moonbike

Equipment

Services

Sale of fishing licences
Sale of fishing bait
Bike hire
Cross-country ski hire
Snowscooter hire
Downhill ski hire
Snowshoe rental
Mountainbike hire
Toboggan rental
Hire of equipment for babies and children
Snowboard rental
Battery assisted bike rental
Battery assisted mountain bike rental
Sale alpine ski
Sale of Cross-country skis
Sale of Snowboard
Sale snowshoes

Rental of via ferrata equipment
Rental of hiking shoes
Rental of climbing equipment
Rental of mountaineering equipment
Shoes
Bootfitting
Sale of adult technical clothing
Sale of technical clothing for children
Sale of adult clothing
Sale of children's clothing
Sale of fishing equipment
Sale of sportswear clothing
Downhill mountain bike rental (DH)
Cross Country MTB Rental (XC Mountain Bike)
Enduro MTB rental
Yooner/paret/snooc hire
Yooner/paret/snooc sale
Rates

Intersport gift card
Tir Groupé cheques
Openings

From

July 8, 2023

until

August 27, 2023

* Open from 9am to 12pm and from to 2pm to 6pm.

From

December 16, 2023

until

April 12, 2024

* School holidays: 8:30am to 7pm Out of school holidays: 8:45am to 12:30pm and 2pm to 7pm.