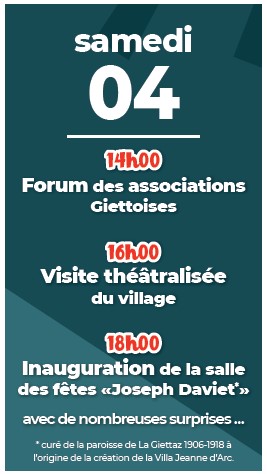 Saturday, June 4, 2022
2 p.m.: Forum of Gietto Associations.
4pm: Theatrical tour of the village
"Les histoires du P'tit Luc"with the company En Visite Simone.
La Giettaz, 1914. The doors of the villa Jeanne d'Arc, 1st vacation boarding house will open. But, here comes the beginning of the war. Luc leaves with his pack…but he promises not to forget his village. He will even tell it to all his comrades at the front.
18h :Inauguration of the village hall "Joseph Daviet"
Joseph Daviet, parish priest of the Giettaz from 1906 to 1918, he is at the origin of the creation of the Villa Joan of Arc.